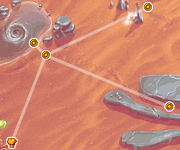 Description
Whistler Syphon
Neighbor Locations
Additional information
First visit triggers a combat against 3 wanwans. If you lose the fight, you'll be rescued from death and your health will be restored. Healer says something about your dinoz not belonging to the king.
Ad blocker interference detected!
Wikia is a free-to-use site that makes money from advertising. We have a modified experience for viewers using ad blockers

Wikia is not accessible if you've made further modifications. Remove the custom ad blocker rule(s) and the page will load as expected.