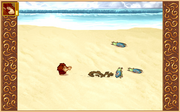 Skill type 

Skill level 

2nd

Element 

Wood

Can be turned off 

Yes

Description 

Decreases the initiative of one enemy by 15

Additional information 

This skill makes the enemy wait about three turns for his next attack (he can still counter-attack). This skill also targets flying opponents, but without effect. The effect DOES sum up if used twice on the same target (if you use Vines during one of your 2 attacks after the previous Vines, your opponent will continue to be immobilized). This skill triggers rather frequently, making it very useful in combat with other players and in 1 on 1 fights (Brutforce Tournament, The Venerable). Compare to Petrification.