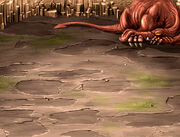 Description
In one of the most dangerous places of the Big All-Hot, is located the Venerable's Lair. It is an obscure cave in which one live a very old Firethrower Dorogon, and this one is in plus very bad-tempered and hates to be disturbed. People say that he likes little Korgons ... well grilled with a bit of salt.
Neighbor Locations
People / NPCs
Ad blocker interference detected!
Wikia is a free-to-use site that makes money from advertising. We have a modified experience for viewers using ad blockers

Wikia is not accessible if you've made further modifications. Remove the custom ad blocker rule(s) and the page will load as expected.