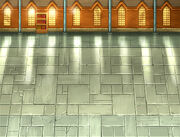 Description
The University of Dinotown is full of bearded professors and stern-looking, students. Although you can't understand what they're talking about, the fate of the world depends on their research - or so they say. One professor, however, is very friendly; he offers to meet with you from time to time to teach you some important lessons.
Neighbor Locations
People / NPCs
Ad blocker interference detected!
Wikia is a free-to-use site that makes money from advertising. We have a modified experience for viewers using ad blockers

Wikia is not accessible if you've made further modifications. Remove the custom ad blocker rule(s) and the page will load as expected.