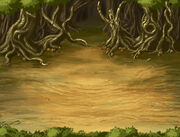 Description
Through this immense Forest, you can see a path. It's certainly the path that is used by Dinoz tamers to go through the forest. In any case, better to not move away from it, because, the risks of getting lost and finishing devoured by some Korgons are very high.
Neighbor Locations
Ad blocker interference detected!
Wikia is a free-to-use site that makes money from advertising. We have a modified experience for viewers using ad blockers

Wikia is not accessible if you've made further modifications. Remove the custom ad blocker rule(s) and the page will load as expected.