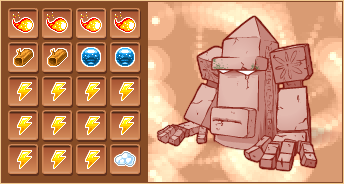 Cost

18,000 gold

Starting skill

Starting elements
Description

Rockies are often hidden amongst the stones. They are living creatures half-animal half-mineral, their bodies are made entirely of Lodestone. This gives them the power to produce electricity at will by rubbing their bodies.
Additional information
To unlock this Dinoz, you need to have a Dinoz (minimum level 13) win a battle against the Strange Stone in BrutForce.
Some Rockys, when reaching level 10 or so, start to enlarge very much.
Gallery
Ad blocker interference detected!
Wikia is a free-to-use site that makes money from advertising. We have a modified experience for viewers using ad blockers

Wikia is not accessible if you've made further modifications. Remove the custom ad blocker rule(s) and the page will load as expected.