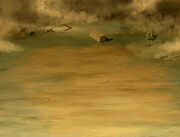 Description
On the other side of the portal lies an unknown yet curiously familiar place. Screams can be heard in the distance. Your Dinoz will have to stay on his guard if he wants to survive!
Neighbor Locations
Ad blocker interference detected!
Wikia is a free-to-use site that makes money from advertising. We have a modified experience for viewers using ad blockers

Wikia is not accessible if you've made further modifications. Remove the custom ad blocker rule(s) and the page will load as expected.