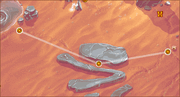 Description
Between the high plateau of Neerheeven are the Neerhel Paths. Notorious due to the many Dinoz who have fallen victim to the Lodestone rockfalls. The ground is covered by jagged and burning stones, and the lodestone rock faces regularly generate deadly electric arcs in the middle of the road.
Neighbor Locations
People / NPCs
Ad blocker interference detected!
Wikia is a free-to-use site that makes money from advertising. We have a modified experience for viewers using ad blockers

Wikia is not accessible if you've made further modifications. Remove the custom ad blocker rule(s) and the page will load as expected.