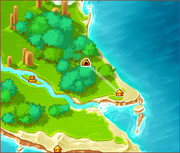 Description
This place is a large open-air market where everything is bought and sold. Numerous merchants coming from all over Dinoland are working here, from time to time you may obtain a rarity at a reduced price! Beware, it's also the sometime hideout of unscrupulous persons who will not hesitate to extort your hard-earned gold coins.
Neighbor Locations
People / NPCs
Ad blocker interference detected!
Wikia is a free-to-use site that makes money from advertising. We have a modified experience for viewers using ad blockers

Wikia is not accessible if you've made further modifications. Remove the custom ad blocker rule(s) and the page will load as expected.