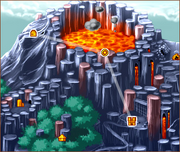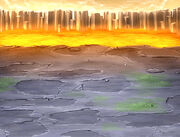 Description
The Lavapit is located on top of the Big All-Hot. The view from the Lavapit is magnificent as you see the whole of Dinotown, the Atlanteid Islands, the Great Forest of Grumhel and even the white peaks of Caushemesh when the weather is particularly pleasant. In the center of the plateau stands a Shaman Temple, which has to rebuilt each time an earthquake occurs, which, seeing as its located on the top of a volcano, is a regular occurence.
Neighbor Locations
People / NPCs
Additional information
You can Excavate here.
Ad blocker interference detected!
Wikia is a free-to-use site that makes money from advertising. We have a modified experience for viewers using ad blockers

Wikia is not accessible if you've made further modifications. Remove the custom ad blocker rule(s) and the page will load as expected.