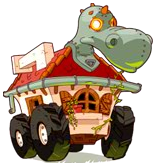 Description

The Itinerant Merchant travels all over Dinoland searching for Ingredients: each week, he moves somewhere else! So it requires to run after him, but he offers very nice prices!
Daily schedule
The Merchant will buy different ingredients depending on what day of the week you find him.
Location
Previous locations can be found in the Archive.
Where?

Located in the Forges of the BrutForce @ December 30th
(don't know till when..)

When?

December 30th, 2013 - ???
If the dates have passed, please update this.
Ad blocker interference detected!
Wikia is a free-to-use site that makes money from advertising. We have a modified experience for viewers using ad blockers

Wikia is not accessible if you've made further modifications. Remove the custom ad blocker rule(s) and the page will load as expected.