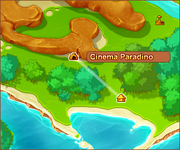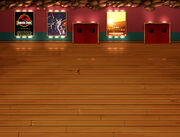 Description
At the foothills of the Small Canyon, one of the Pre-dinozian caves has been converted into a magnificent Cinema. The latest films are shown here and budding filmmakers can even come here to learn how to make their own films.
Neighbor Locations
Additional information
This area opened on August 2nd 2010 on the english server.
By clicking on "Cinema Paradino", you can enter the cinema to view, rate, and create mini dinoz movies.

Existing movies can be listed by most recent, highest rated, and most popular. Click on a title to view it.
Clicking on "Make a Film" at the bottom of the page allows you to make your own film. A more detailed description of production can be found here.
Ad blocker interference detected!
Wikia is a free-to-use site that makes money from advertising. We have a modified experience for viewers using ad blockers

Wikia is not accessible if you've made further modifications. Remove the custom ad blocker rule(s) and the page will load as expected.