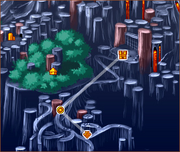 Description
The Basalt Slopes slide up the horizon from the base to the top of the Big All-Hot. Craggy and rocky, these large expanses of tangled volcanic rock provide plenty of hiding places; you will have to be careful when taking this path for ambushes will be plentiful.
Neighbor Locations
People / NPCs
Additional information
You can dig here with the Lucky Shovel for a Basalt Shard.
Ad blocker interference detected!
Wikia is a free-to-use site that makes money from advertising. We have a modified experience for viewers using ad blockers

Wikia is not accessible if you've made further modifications. Remove the custom ad blocker rule(s) and the page will load as expected.